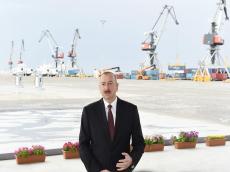 By  Trend
All tasks set before Azerbaijan's transport infrastructure have been fulfilled, said President Ilham Aliyev addressing the opening ceremony of the Baku International Sea Trade Port Complex in the Alat settlement on May 14.
President Aliyev noted that local and foreign specialists and employees participated in the port's construction.
"I would like to express my gratitude to them for the work done. I personally controlled the construction work. I am glad that today the highest standards are applied here, all equipment, necessary technical means, latest cranes were purchased and installed here. Thus, we established the strongest transport and logistics center in Azerbaijan," he said.
Choosing Alat also was not accidental, President Aliyev added.
"The existing Baku Port no longer meets our needs, it is located in the city center and its ability to handle increasing cargo volumes is very limited. Alat is a very favorable place from the geographical point of view, and the routes passing through Alat in both the western and southern directions, including roads and railways, undoubtedly played a major role in choosing this place. Surely, development of the Alat settlement will depend, to a large extent, on the logistics and transport infrastructure created there," said the president.
He added that in the near future a free economic zone will be established in Alat, and in the future this territory of Baku will develop very rapidly, numerous workplaces will be created there.
"Thus, Alat will take an important place in development of the country's transport and economic potential," Ilham Aliyev said.
President Aliyev further said the commissioning of the Baku International Sea Trade Port gives ground to say that all tasks set before the country's transport infrastructure have been fulfilled.
"To date, huge work has been done in this direction. We have the biggest flotilla in the Caspian Sea, we have more than 260 vessels. According to information provided to me, 18 ships were purchased over the past few years. A shipyard was built in Baku upon my initiative. We can build, manufacture all types of ships and, thus, we have eliminated dependence on foreign partners," the head of state said.