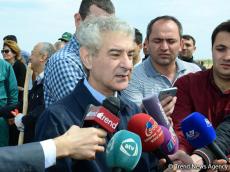 Trend:
The lack of awareness of the necessity of a fair settlement of the Armenia-Azerbaijan Nagorno-Karabakh conflict of the forces that came to power in Armenia marks the beginning of a tragedy in Armenia, said Azerbaijan's deputy prime minister, Deputy Chairman and Executive Secretary of the ruling New Azerbaijan Party Ali Ahmadov.
Deputy prime minister noted in this regard that the tense situation in Armenia will remain if the Nagorno-Karabakh conflict is not resolved and if Armenia continues to adhere to absurd statements.
"Of course, the statements made by Armenian Prime Minister Nikol Pashinyan will be condemned not only by Azerbaijan, but also by the mediators' group established by the international community to resolve the Nagorno-Karabakh conflict," Ali Ahmadov told reporters May 12.
Deputy Prime Minister said, in general, the existence of this conflict is a serious obstacle to achieving a stable foundation for ensuring stability and tranquility in the South Caucasus.
"As for his [Armenian prime minister] visit to the regions and his statements which are inconsistent with the reality and lead to the growth of tension, I think that it will harm Armenia itself. As you can see, both Armenia and Azerbaijan held presidential election. People work, show activeness, plant trees at weekends, and demonstrate unity with the government in the post-election period in Azerbaijan. They demonstrate their deep trust in the election results," Ali Ahmadov added.
The deputy prime minister said, all these reflect the realities of Azerbaijan.
"This is while the realities of Armenia are dissatisfaction, anxiety, and clashes. The more Armenia is far from being ready to withdraw from Azerbaijani lands, and continues to voice delusional statements, the longer the tense situation will remain in Armenia," he said.
Ahmadov said that Armenia is in a deadlock, it has no potential for development from the economic point of view.
"The settlement of the conflict would be more in line with the interests of Armenia and would become the basis for improving their situation. If the force that came to power after this tension does not realize the need to resolve this conflict in a fair way, I believe that this is the beginning of its tragedy. If this continues, I think that in the near future the people will go out to the streets again and will demand a change of power," Ali Ahmadov said.
The conflict between the two South Caucasus countries began in 1988 when Armenia made territorial claims against Azerbaijan. As a result of the ensuing war, in 1992 Armenian armed forces occupied 20 percent of Azerbaijan, including the Nagorno-Karabakh region and seven surrounding districts.
The 1994 ceasefire agreement was followed by peace negotiations. Armenia has not yet implemented four UN Security Council resolutions on withdrawal of its armed forces from the Nagorno-Karabakh and the surrounding districts.