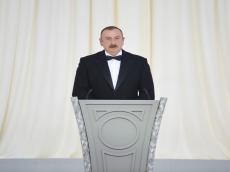 By  Trend
Azerbaijan is one of the most stable and successfully developing countries on a global scale, Azerbaijani President Ilham Aliyev said.
President Aliyev made the remarks in Baku at the solemn ceremony dedicated to the 95th birth anniversary of national leader of Azerbaijani people Heydar Aliyev.
"In 2003, the Azerbaijani people showed great confidence in me and since that day till present I try to justify this confidence," the president said. "In 2003, on the eve of the presidential election, I promised that if people show confidence, the policy of Heydar Aliyev will be continued in Azerbaijan."
"I am proud that I have kept my word and over the past 15 years Azerbaijan has been successfully and confidently following the path outlined by Heydar Aliyev," he said.
"Stability has been fully ensured in Azerbaijan, the guarantor of which are the Azerbaijani people. Today we see that the situation is aggravating in different parts of the world. New conflicts, bloody clashes, civil wars, coups occur. They occur because people are dissatisfied with the authorities, as the authorities do not pursue the right policy at the proper level, do not solve the problems that concern people, cannot ensure economic development and commit big violations."
"Azerbaijani people, the unity of people and government, are the guarantor of stability in Azerbaijan," President Aliyev said. "Today, Azerbaijan is one of the most stable and successfully developing countries on a global scale."
The head of state pointed out that Azerbaijan was created on solid foundation.
"Over the past 15 years, we have been pursuing a serious policy related to our national values," the president said. "Our national values, traditional values are the basis for us. I am very glad that today the young generation is being brought up in the national spirit. Feelings of national dignity are being strengthened. Independence is perceived and supported by the society as the greatest heritage."
President Aliyev stressed that Azerbaijan has become an exemplary country on a global scale in regulating interreligious and interethnic relations.
"Representatives of all peoples, all religions live in Azerbaijan as one family, in conditions of peace and friendship," he said. "This is our great heritage and the great success of our policy."
The president noted that Azerbaijan is a country having high prestige in the international community.
"We have equal, excellent, constructive relations with many countries," he said. "We never step back down from our principled position. Relations with our partners, created on the basis of mutual interests and proper foreign policy allow to build up our strength, the capability of influence on the international arena, as well as solve internal problems, in particular, problems related to economic development."