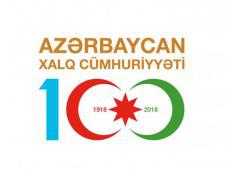 By  Trend
Azerbaijan's Culture and Tourism Ministry has prepared the "Azerbaijan Democratic Republic" (ADR) logo - "ADR 100", the Ministry of Culture and Tourism said in a message April 17.
The author of the logo is Zaur Gamzayev. The logo is planned to be used in events dedicated to the centenary of ADR, as well as in events held as part of the "Year of ADR in Azerbaijan".
The logo was prepared in accordance with the orders of Azerbaijani President Ilham Aliyev "On the centenary of the ADR" dated May 16, 2017 and "On the announcement of 2018 as Year of ADR in Azerbaijan" dated Jan. 10, 2018.