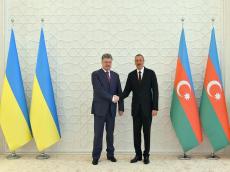 By  Trend
President of Ukraine Petro Poroshenko phoned Azerbaijani President Ilham Aliyev, the press service of the Azerbaijani president said in a statement.
Petro Poroshenko congratulated Ilham Aliyev on confident victory at the presidential election, wished him success in the presidential activity for the progress and prosperity of Azerbaijan.
President Ilham Aliyev expressed gratitude for the attention and congratulations.
During the phone conversation, the two presidents expressed satisfaction with the development of ties between the two countries, and stressed with confidence the further strengthening of cooperation.