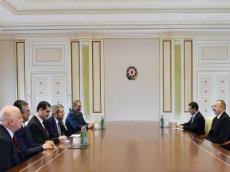 By  Trend
President of Azerbaijan Ilham Aliyev has received a delegation led by co-chair of the Turkey-Azerbaijan Interparliamentary Friendship Group of the Turkish Parliament Necdet Unuvar.
Congratulating President Ilham Aliyev on confident victory in the April 11 election, Necdet Unuvar noted that he came to the country with a big observer delegation and that they conducted observations at polling stations.
He also noted that the people showed great interest in the election and they didn't face any offense during the voting.
President Ilham Aliyev recalled with satisfaction the telephone conversation with President of Turkey Recep Tayyip Erdogan after the election and a congratulatory letter sent to him by Turkish Prime Minister Binali Yildirim.
Ilham Aliyev said that every effort was made to ensure that the election is held as transparent as possible and reflect the will of the Azerbaijani people.
Stressing that the number of people participating in the election was quite high, President Ilham Aliyev noted that this gives additional strength to further confidently lead the country forward.
Ilham Aliyev expressed confidence in further successful development of the Azerbaijani-Turkish brotherly, friendly ties.