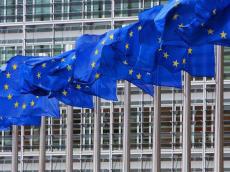 The European Union remains committed in its support to the territorial integrity, independence and sovereignty of all its partners, reads a declaration adapted following the Eastern Partnership Summit held in Brussels on November 24.
"Full commitment, respect for and adherence to the purposes and principles enshrined in the UN Charter, the 1975 Helsinki Final Act and the 1990 OSCE Charter of Paris are fundamental to our shared vision for a peaceful and undivided Europe," the declaration reads.
The Summit participants further voiced concern about the continued violations of principles of international law in many parts of the region.
They called for renewed efforts to promote the peaceful settlement of unresolved conflicts in the region on the basis of the principles and norms of international law.
"The resolution of conflicts, building trust and good neighbourly relations are essential to economic and social development and cooperation. The Summit participants welcome efforts and the EU's strengthened role in conflict resolution and confidence building in the framework or in support of existing agreed negotiating formats and processes, including through field presence, when appropriate," the declaration reads.
The conflict between the two South Caucasus countries began in 1988 when Armenia made territorial claims against Azerbaijan. As a result of the ensuing war, in 1992 Armenian armed forces occupied 20 percent of Azerbaijan, including the Nagorno-Karabakh region and seven surrounding districts.
The 1994 ceasefire agreement was followed by peace negotiations. Armenia has not yet implemented four UN Security Council resolutions on withdrawal of its armed forces from the Nagorno-Karabakh and the surrounding districts.