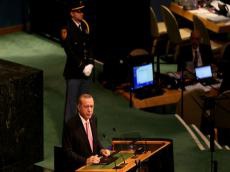 By Azernews
The restoration of the territorial integrity of Azerbaijan and Georgia is the main condition for peace in the South Caucasus region.
Turkish President Recep Tayyip Erdogan made the remark while addressing the 72nd session of the UN General Assembly in New York on September 19.
"We must make more efforts to resolve conflicts in Nagorno-Karabakh, Abkhazia and South Ossetia. We must not forget that any crisis we ignore today may develop into a regional and even a global conflict tomorrow," he noted.
Azerbaijan and Armenia for over two decades have been locked in conflict, which emerged over Armenian territorial claims. Since the 1990s, Armenian armed forces have occupied over 20 percent of Azerbaijan's internationally recognized territory, including Nagorno-Karabakh and seven adjacent regions.
The UN Security Council adopted four resolutions on Armenian withdrawal from Azerbaijan's occupied lands, but they have not been enforced to this day.
Turkey has always supported the resolution of the Armenia-Azerbaijan Nagorno-Karabakh conflict based on Azerbaijan's territorial integrity, sovereignty and inviolability of the country's internationally recognized borders.
Turkey and Armenia severed diplomatic relations in 1993 due to occupation of Azerbaijani territories by Armenian Armed Forces and Yerevan's claims to recognize the so-called Armenian genocide.
During his visit to Azerbaijan this March, Erdogan stated that the borders would only be reopened after Armenia ceases the occupation.