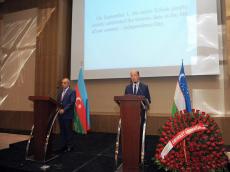 By Azernews
By Amina Nazarli
There is a great potential for boosting bonds between Azerbaijan and Uzbekistan, said Ambassador Sherzod Fayziyev.
Fayziyev made the remark at the reception marking the 26th anniversary of his country`s State Independence Day. The event brought together state and government officials, representatives of foreign diplomatic corps accredited in Azerbaijan.
The diplomat highlighted the history of independence of his country, adding great development was achieved in Uzbekistan in economic and cultural fields.
"Today we can proudly say that in a historically short period, we have achieved tremendous success in finding a worthy place in the world community, ensuring human rights and freedoms, reviving national statehood and spiritual values, our sacred religion, customs and traditions," he noted.
The Strategy, which is designed for 2017-2021, defines improvement of state and public management, ensuring the rule of law and reforming the judicial and legal system, further development of the economy and social sphere, ensuring security, interethnic harmony and religious tolerance as the main directions, based on the principles of constructive dialogue and mutually beneficial cooperation, he said.
Fayziyev noted that the development of friendly relations and mutually beneficial cooperation with the states of the far and near abroad will remain the most important direction in Uzbekistan's foreign policy.
The envoy also praised the current state of relations between Uzbekistan and Azerbaijan.
He also stressed the importance of reciprocal visits, bilateral discussions, adding these contacts contribute to development of bilateral ties. He expressed confidence that cooperation between the two countries in the cultural, educational, scientific fields will further develop.
First Deputy Prime Minister of Azerbaijan Yagub Eyyubov congratulated the Uzbek people on behalf of President Ilham Aliyev.
The First Deputy Premier touched upon developing friendly and fraternal ties between the two countries.
Eyyubov praised Uzbekistan`s support for territorial integrity of Azerbaijan.