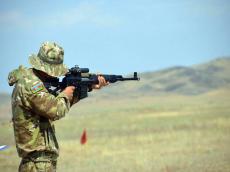 By Azernews
By Rashid Shirinov
The International Army Games – 2017, bringing together 150 teams from 28 countries, continues with various spectacular contests held among national armies.
The Sniper Frontier contest was held at Otar military base in Kazakhstan within the Army Games on August 4.
Azerbaijani snipers, participating in the competitions of sniper pairs within the contest, achieved success and made their way to the next stage of the competition.
Along with Azerbaijani snipers, those from Russia, Belarus, China, Kazakhstan, Uzbekistan, Bangladesh and Mongolia also reached the next stage of the competition. However, snipers from Armenia, Iran, Greece, Kyrgyzstan, Zimbabwe, India, Thailand and the Republic of South Africa finished participation due to the weak results achieved during the competitions.
Meanwhile, the episode Artillery firing at a floating mine was fulfilled within the Sea Cup - 2017 international contest on August 5.
The Sea Cup - 2017, bringing together the Navies of Azerbaijan, Russia, Iran and Kazakhstan, is held within the Army Games in the coastal waters of Baku.
Based on the results of the fulfilling of the episode, the crew of the small rocket ship Grad Sviyazhsk of the Russian Navy became first with a score of 50 points. The crew of the G-124 patrol ship of the Azerbaijan Navy was second with 48 points, while the crew of the rocket and artillery ship Sariarka of the Kazakhstan Navy took the third place with a score of 46 points. The crew of the missile boat Joshan of the Iranian Navy was fourth with 44 points.
On the next day, crews of warships of Azerbaijan, Russia, Iran and Kazakhstan participating in the Sea Cup carried out artillery fire at sea targets.
Firing was carried out from a distance of 3.5 kilometers according to the contest rules, and the international judging panel confirmed the fact that the exercise was successfully conducted.
The referees will set the final score for the exercise today, taking into account the speed of each ship for covering the certain distance during the firing.