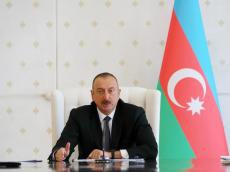 By  Trend
Azerbaijan is a land of stability, and investors invest in stable places, said the country's President Ilham Aliyev, speaking at a meeting of the Cabinet of Ministers dedicated to results of socio-economic development in the first half of 2017 and objectives for the future.
"The number of stable counties is reducing dramatically. Therefore, I am sure that in the future, even more foreign investors will appeal us to invest in Azerbaijan," Ilham Aliyev said in his opening speech at the meeting.
The president went on to add that $5 billion was invested in Azerbaijan's economy in six months of 2017.
"Today capital investments decrease almost in all countries by force of financial difficulties and problems. However, Azerbaijan attracts investments and most of them are foreign investments. That is, Azerbaijan is a very attractive country for foreign investors. Why? Not only because we have good investment environment, but because Azerbaijan is a land of stability and investors make investments only in stable places," President Ilham Aliyev said.