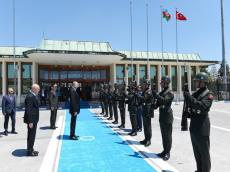 By  Azertac 
President of the Republic of Azerbaijan Ilham Aliyev completed his visit to the Republic of Turkey on July 10.
A guard of honor was lined up for the Azerbaijani President at Ataturk International Airport in Istanbul, which was decorated with national flags of the two countries, Azertac reported.
The chief of the guard of honor reported to the President of Azerbaijan.
The heads of state saluted the guard of honor.
President Ilham Aliyev was seen of by high-ranking Turkish officials.