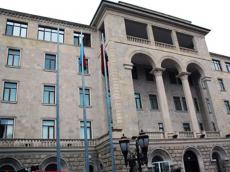 By Azernews
By Rashid Shirinov
Armenia, after staging another provocation and  shelling Alkhanli village in Azerbaijan's Fuzuli region from large-caliber weapons, which resulted in the killing a toddler and an old woman, and the wounding of another,  once again tried to deceive the international community.
The aggressor country has impertinently tried to "justify" the killing stating that Azerbaijan allegedly set firing positions in the frontline villages, and allegedly the Armenian militaries didn't target civilians.  
The Azerbaijani Defense Ministry organizing a trip of foreign military attachés to the frontline village proved that this is another lie of the Armenian side.
The visit of military attachés accredited in Azerbaijan and representatives of foreign media to Alkhanli village of the Fizuli region took place on July 6 through organization of the Defense Ministry, Foreign Ministry, Prosecutor General's Office and Fizuli District Executive Power organized a visit.
Here, the military attachés and media representatives were made sure that there is no staff of the Azerbaijani Armed Forces and firing positions in the village.
"Thus, the information disseminated by the Armenian side about alleged presence of Azerbaijani military units in Alkhanli is misinformation and a lie. This fact once again showed that the main goal of the Armenian side was to attack on Azerbaijani civilians," the ministry stated.
Armenia's direct and deliberate attacks against the Azerbaijani civilian population and villages near the frontline constitute a serious violation of international humanitarian and human rights law.
This in particular violates the 1949 Geneva Conventions and Additional Protocol I, the Convention on the Rights of the Child and the Convention for the Protection of Human Rights and Fundamental Freedoms.
The international community should not keep silence – the aggressor Armenia must be justly punished for its daily provocations on the frontline, and what is more important, for targeting the civilian population of Azerbaijan.
Armenia broke out a lengthy war against Azerbaijan by laying territorial claims on its South Caucasus neighbor. Since a war in the early 1990s, Armenian armed forces have occupied 20 percent of Azerbaijan's territory, including Nagorno-Karabakh and seven surrounding regions. More than 20,000 Azerbaijanis were killed and over 1 million were displaced as a result of the large-scale hostilities.
Armenia has not yet implemented four UN Security Council resolutions on withdrawal of its armed forces from the Nagorno-Karabakh and surrounding districts.