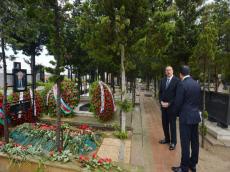 President of Azerbaijan Ilham Aliyev visited the tomb of late Energy Minister, Honored Engineer, holder of Shohrat Order Natig Aliyev on June 13, Azertac reported.
President Aliyev put flowers at the grave of Natig Aliyev in the Alley of Honors. The President once again offered his condolences to Natig Aliyev's son Farhad Aliyev.
Farhad Aliyev thanked the head of state for paying tribute to his father.
Natig Aliyev died on June 9, several days after being transferred to the Florence Nightingale Clinic in Istanbul for treatment of a heart complaint.
The 69-year-old veteran executive in the energy sector of Azerbaijan served as president of the state energy company SOCAR and chaired the company's board of directors in 1993-2005.
He was the Minister of Industry and Energy in 2005-2013, and became the Energy Minister afterwards. He represented Azerbaijan in its negotiations with foreign companies over major energy contracts and took part in talks with OPEC members on global oil production cuts.