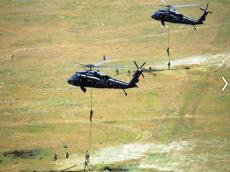 By Azernews
By Rashid Shirinov
The Special Forces of Azerbaijan, Turkey and Georgia continue joint exercises "Caucasian Eagle 2017". The next phase of the exercises was held at the Vaziani training ground near Tbilisi, the Georgian Defense Ministry reported on June 13.
Servicemen of the three countries fulfilled tasks of destroying the imaginary enemy, hostage rescue, evacuating the wounded, and other tasks. The exercise also included air components.
Deputy Chief of the General Staff of Georgian Armed Forces Zaza Chkhaidze, Commander of Special Forces Brigade Dimitri Kiknadze, and Turkish Ambassador to Georgia Zeki Levent Gumrukcu observed the exercise.
The joint exercises, which are being held in accordance with an agreement between the Azerbaijani, Turkish and Georgian defense ministers, will continue until June 14. The joint exercises of the three countries play an important role in strengthening the capabilities of their armed forces.
The Azerbaijani Army, which today is considered the most modern army in the Caucasus, consists of Air Force and Air Defense Forces, the Navy, and the Land Forces.
The skills and combat readiness of the Azerbaijani army are growing year by year, as the country's Armed Forces regularly conduct military exercises. The Azerbaijani army is supplied with modern weapons and technical equipment for maintaining a high level of combat capability.
The army building process is of particular importance for Azerbaijan, as twenty percent of the country's territory is under Armenian occupation and the country is in a state of war with Armenia.