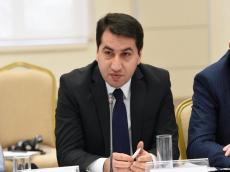 By Azernews
By Rashid Shirinov
Armenia is once again trying to hinder the settlement of the long-lasting Nagorno-Karabakh conflict. While addressing the first meeting of the new Parliament of Armenia on May 18, President Serzh Sargsyan made provocative statements, which were aimed against Azerbaijan and sharply violate international law.
Spokesman of Azerbaijan's Foreign Ministry Hikmat Hajiyev has commented on Sargsyan's remarks about the Nagorno-Karabakh conflict.
"International community is well aware that Armenia, while continuing the occupation of Azerbaijani territories, is impeding the Nagorno-Karabakh conflict settlement," Hajiyev told Trend on May 18.
"The recent statement made by the Armenian leadership in the parliament proves this again," Hajiyev said, adding that Sargsyan's statement fully contradicts the updated Madrid principles.
Hajiyev said the first paragraph of the updated Madrid principles, stipulating a gradual settlement of the Armenia-Azerbaijan Nagorno-Karabakh conflict, envisages the withdrawal of Armenian troops from the occupied areas adjacent to the Nagorno-Karabakh region of Azerbaijan.
"Here the logic is to ensure peace in exchange for the withdrawal of the Armenian armed forces from the occupied Azerbaijani territories," Hajiyev said.
He added that the situation of Armenians' residing in Azerbaijan presented by the Armenian leadership as "self-determination" has nothing to do with the right to self-determination, which is reflected in the UN Charter and the Helsinki Final Act.
"Abusing the supreme principle of international law – the right to self-determination – the Armenian leadership is trying to conceal their attempts to occupy the territories of neighboring Azerbaijan by using force," spokesman noted.
Armenia broke out a lengthy war against Azerbaijan by laying territorial claims on its South Caucasus neighbor. Since a war in the early 1990s, Armenian armed forces have occupied 20 percent of Azerbaijan's territory, including Nagorno-Karabakh and seven surrounding regions. More than 20,000 Azerbaijanis were killed and over 1 million were displaced as a result of the large-scale hostilities.
Armenia has not yet implemented four UN Security Council resolutions on withdrawal of its armed forces from the Nagorno-Karabakh and surrounding districts.