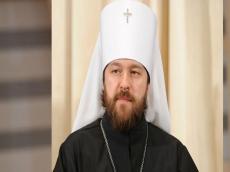 By Azernews
By Rashid Shirinov
Chairman of the Moscow Patriarchate department for external church relations – Metropolitan Hilarion of Volokolamsk has stated that the Russian Orthodox Church is against any violence, harassment and discrimination.
The statement came as a response to the appeal of Chairman of the Caucasian Muslims Office (CMO) Sheikhulislam Allahshukur Pashazadeh and leaders of religious confessions of Azerbaijan to world's religious leaders, parliaments, international organizations and the European Court of Human Rights in connection with the Khojaly genocide.
Metropolitan Hilarion of Volokolamsk added that the Nagorno-Karabakh conflict breaks up hearts because the victims of this conflict were innocent people from both sides, the Caucasian Muslims Office told APA on April 18.
He also noted the importance of resolving conflicts in fair and peaceful ways in accordance with international law. He expressed hope that Azerbaijan and Armenia, with the support of the international community and religious leaders, will find a solution that would serve the interests of both nations.
Azerbaijan and Armenia for over two decades have been locked in conflict, which emerged over Armenian territorial claims to Azerbaijan. Since the 1990s war, Armenian armed forces have occupied over 20 percent of Azerbaijan's internationally recognized territory, including Nagorno-Karabakh and seven adjacent regions.
The UN Security Council has adopted four resolutions on Armenian withdrawal from the occupied lands of Azerbaijan, but they have not been enforced to this day.