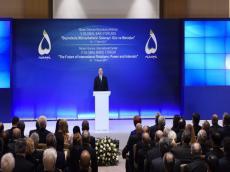 By  Azertac 
The 5th Global Baku Forum has kicked off in Baku under the slogan "Future of foreign relations: Power and interests", Azertac reported.
President of Azerbaijan Ilham Aliyev and first lady Mehriban Aliyeva are attending the opening ceremony of the forum.
The head of state made a speech at the opening ceremony.
Every international forum is important, and future impact on the decision-making in the world depends on the discussed topics, President Ilham Aliyev said, addressing the event.
The president said that holding of this forum has already become traditional, and this is not the first time Azerbaijan holds it. He welcomed all the participants, who represent more than fifty countries at the forum, and more than two hundred sixty guests.
"Azerbaijan, as an independent country, is relatively new. Last year we celebrated the 25th Anniversary of restoration of our independence. Our activity, projects that we initiate in our country, have positive impact on the whole region is one of the ways to present our country to the world," the president said.
Co-organized by the State Committee for Work with Diaspora and the Nizami Ganjavi International Center, the forum is joined by more than 200 presidents, former heads of state and government from 50 countries, current and former officials, heads and senior representatives of international organizations, renowned politicians and experts.
The forum will discuss a range of issues including the future of transatlantic relations, the fight against terrorism, the role of China in international relations.