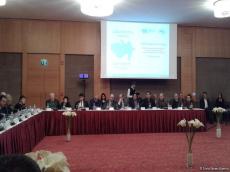 By Azernews
By Rashid Shirinov
A conference titled "The Nagorno-Karabakh conflict, origins, peacemaking and the role of civil society" kicked off in Baku on March 14.
A number of scientists, politicians, public figures and researchers from Azerbaijan, Georgia, Russia, Turkey, Kazakhstan, Canada, Ukraine, Sweden, Uzbekistan and Armenia attended the event.
Famous Russian TV presenter and former member of Russia's Civic Chamber, Maksim Shevchenko, addressing the event, said that deportation and ethnic cleansing carried out by Armenia against Azerbaijanis should not be left without attention.
He recalled that hundreds of thousands of Azerbaijanis were expelled from Karabakh and Armenia.
Speaking about Azerbaijan, he noted that it is a multinational state, which, despite all the experience, is not preparing for war. As for Armenia, Shevchenko noted that if the Dashnaktsutyun party wins elections there, war will become the basis of the political course of Armenia.
Moreover, Shevchenko recalled that many Armenians left their country due to the country's political course.
The expert went on to say that the OSCE Minsk Group, established to broker a peace between parties to the Nagorno-Karabakh conflict, is unable to consider a solution to the conflict without taking into account the interests of the region.
"The proposals put forward by the OSCE Minsk Group do not work. The MG is an instrument of containment of a disaster, but not a way to resolve the conflict," said Shevchenko.
In this context, the expert added that it is necessary to create new tools to resolve the conflict.
Deputy Department Head of the Presidential Administration Fuad Akhundov, for his part, said that the Armenian leadership deceives its people for more than 25 years by saying that the world has begun to recognize the "independence" of Nagorno-Karabakh, while in fact no country, including Armenia itself, recognizes it.
"Today, researcher-historians should express their stance against fake Armenian historiography," he added.
Akhundov also noted that the Armenian people have already moved into the phase of understanding the need for a change. "People in Nagorno-Karabakh are under the fear of terror, but the Armenians beyond the region have begun to actively engage in the settlement process. They arrive in Baku and express their opinions," Akhundov said.
Arthur Aghajanov, representing Ukraine at the conference, said that the resolution of the Armenian-Azerbaijani Nagorno-Karabakh conflict in a positive way is close.
Russian political analyst Oleg Kuznetsov, talking to reporters on the sidelines of the conference , said that until the world recognizes the Khojaly genocide, it will be impossible to prevent such crimes.
"Crimes committed in the Azerbaijani town of Khojaly are being committed today in Syria and Iraq, " he said.
Kuznetsov also said that on March 6 he initiated a petition for recognition of Khojaly genocide in the Russian Parliament. The petition is addressed to the MPs of Russia's State Duma and the Federation Council.
He also added that the genocide committed in Khojaly by Armenian separatists is a crime against humanity.