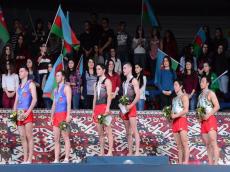 By  Trend
A ceremony of awarding the winners of the finals of the FIG World Cup in Trampoline Gymnastics in men's and women's individual and synchronized pairs' events has been held at the National Gymnastics Arena in Baku.
The ceremony was attended by Khagani Faradzhev, principal of the Baku Gymnastics School, head coach of the Azerbaijani national team in artistic gymnastics Rza Aliyev, Secretary General of the Azerbaijan Gymnastics Federation (AGF) Farid Gaibov, honorary member of the European Union of Gymnastics (UEG) Victor Saaron, Director of Azerbaijan's National Gymnastics Arena Magsud Farzullayev, member of the AGF Executive Committee Mariana Vasileva, event coordinator Nurlana Mammadzadeh, Vladimir Zeman, president of the UEG trampoline technical committee, First Vice-President of the FIG Trampoline Technical Committee Nikolai Makarov, AGF Marketing Director Sabri Gulmaliyev, head of the AGF research group Elshad Narimanov and Natalia Bulanova, the event director.
AGF's special prize – the AGF Trophy – was also awarded for the best performance and the highest score.
Nikolai Makarov and Natalia Bulanova presented the awards to Russian gymnasts Dmitrii Ushakov and Yana Pavlova.