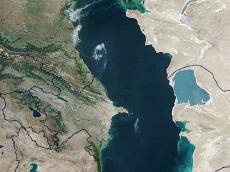 By Azernews
By Kamila Aliyeva
The Caspian littoral states' authorized representatives, heads and leading specialists of the relevant ministries and departments have convened in Ashgabat to mull the environmental challenges.
The meeting was organized by the Foreign Ministry, State Committee for Fisheries and the State Enterprise for the Caspian Sea under the President of Turkmenistan, the State News Agency of Turkmenistan (TDH) reported.
The main issue on the agenda of the two-day meeting is approval of the draft Protocol on cooperation in the fight against illegal exploitation of biological resources (poaching) in the Caspian Sea.
The document developed by the Turkmen side is aimed at supplementing the agreement on security cooperation in the Caspian Sea, signed at the Third Summit of Heads of Caspian littoral states in Baku in 2010.
The document put emphasize on preservation and reproduction of marine fish resources and the regulation of fishing activities in the Caspian.
The meeting participants called for the adoption of a set of joint measures intended to preserve and enhance the natural biodiversity of the Caspian Sea. The urgent tasks include the implementation of systematic monitoring of the state of biological resources and the marine environment of the sea.
The Turkmen side notes that only a responsible, strictly scientific approach to marine activities will ensure the successful development of fisheries in the long term, and prevent negative affection of the fish fauna of the region.
At a previous meeting of authorized representatives, the Turkmen side initiated establishment of a permanent Caspian Economic Forum which is to be an effective meeting place for representatives of government and business circles of the Caspian region.
The Caspian Sea is surrounded by the five coastal countries of Azerbaijan, Iran, Kazakhstan, Russia and Turkmenistan. The Sea has a total surface area of 371,000 km², holding 78,200 cubic km of water.  
The legal status of the Caspian Sea has remained unsolved during the past two decades, preventing development and exploitation of its disputable oil and gas fields and creating obstacles to the realization of major projects.
Russia, Kazakhstan, and Azerbaijan hold to the principle of dividing into national sectors based on the "median line" principles since it is an international boundary lake, and leaving the sea surface for general use, i.e. they are for demarcation of mineral resources and the Caspian Sea shelf, but against dividing up its waters. 
Iran seeks an equal division of the Caspian into 5 even sectors, mainly because most of the offshore energy resources are located away from the Iranian coastline. Turkmenistan also demands the division of the Sea into equal parts between the pre-Caspian countries so that each country has 20 percent of the sea.
The Caspian littoral states – Azerbaijan, Kazakhstan, Russia, Turkmenistan, and Iran – signed a Framework Convention for the Protection of the Marine Environment of the Caspian Sea in November 2003.