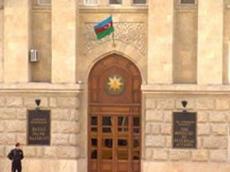 Baku City Prosecutor's Office has filed a criminal case in connection with an attempt of deliberate murder of former President Abulfaz Elchibey (Aliyev), Prosecutor General's Office spokesman Eldar Sultanov said.
Baku City Prosecutor's Office considered appeal of the 'Muasir Musavat' Party Chairman Hafiz Hajiyev on deliberate poisoning of ex-president Abulfaz Elchibey.
During the investigation Hajiyev and others said that they have information about deliberate poisoning of Abulfaz Elchibey, prior to his death, which had a negative effect on his health, and that there is enough suppositions in this regard.
Based on the collected materials, Baku City Prosecutor's Office filed a criminal case under Article 29, 120.1 (attempt to deliberate murder) of the Criminal Code of Azerbaijan.
Necessary investigative actions on the case are underway. The public will be informed about the results.
Abulfaz Elchibey was Azerbaijani President from 1992 to 1993. Elchibey died at Turkish military hospital Gulhane after a long illness on Aug.22, 2000.
/
Trend
/