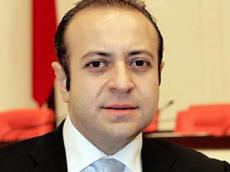 The efforts of Russia and France to resolve the Nagorno-Karabakh conflict within the OSCE Minsk Group have not yielded any results, which is why Turkey hopes that France will strengthen its role in the resolution of the conflict, Turkish minister for EU Affairs Egemen Bagis said in an interview with French La Croix newspaper, the Turkish Internethavadis website reported on Wednesday.
"Instead of discussing the so-called "Armenian genocide" France should take up the settlement of the Nagorno-Karabakh conflict and think about the fate of Azerbaijani refugees who were left without shelter as a result of Armenian aggression," Bagis said.
The conflict between the two South Caucasus countries began in 1988 when Armenia made territorial claims against Azerbaijan. Armenian armed forces have occupied 20 per cent of Azerbaijan since 1992, including the Nagorno-Karabakh region and seven surrounding districts.
Azerbaijan and Armenia signed a ceasefire agreement in 1994. The co-chairs of the OSCE Minsk Group - Russia, France and the U.S. - are currently holding peace negotiations.
Armenia has not yet implemented the U.N. Security Council's four resolutions on the liberation of the Nagorno-Karabakh and the surrounding regions.
The minister also notes that Turkey does not abandon its history and once again urged Armenia to establish a commission to investigate the events of 1915.
"Turkey has repeatedly called on Armenia to open archives and to begin historical investigation. We agree to France's participation in these investigations," Bagis said.
Armenia and the Armenian lobby claim that the predecessor of the Turkey - Ottoman Empire had committed the 1915 "genocide" against the Armenians living in Anatolia, and achieved recognition of the "Armenian Genocide" by the parliaments of several countries.
/
Trend
/