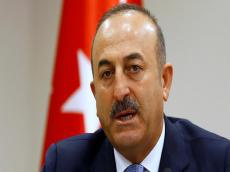 By  Azertac 
By Gunay Hasanova
Ankara expects Washington, which is its ally, to speed up the extradition of the leader of terrorist organization "Parallel State" (FETO) Fethullah Gulen who is accused on July 15 military coup attempt in Turkey, said Turkish Foreign Minister Mevlut Cavusoglu in an interview with TV channel France 24, Anadolu Agency reported.
He pointed out that the Turkish side has provided the U.S. with the evidence of criminal activity of the organization Gulen and his involvement in the events of July 15.
"We are absolutely sure that behind the attempted coup in Turkey stands FETO. Everyone, including the United States, knows that the coup attempt was organized and implemented by Gulen and his supporters," said the head of Turkish diplomacy.
Cavusoglu stressed that Americans, in turn, expressed their willingness to cooperate with us and offered Turkey to provide proof regarding Gulen's involvement in failed coup attempt.
"We also handed a dossier of the documentation directly related to the events of July 15. In other words, the legal process has already begun. Therefore, we expect the United States to extradite Gulen in the nearest future," Cavusoglu said, adding that he is optimistic about it.
"The decision on Gulen's extradition date will be made by the court. We are optimistic in this regard and sure that in a democratic society there is no place for persons like Gulen," the minister noted.
Earlier, Turkey's Justice Minister Bekir Bozdag who was accompanying President Recep Tayyip Erdogan on a visit to New York for the annual UN General Assembly meetings said that U.S. Vice President Joe Biden admitted that Ankara provided "concrete evidence" about terror leader Fethullah Gulen being the mastermind of a recent coup attempt in Turkey.
Ankara maintains that the overthrow attempt was organized by followers of Gulen, who has lived in self-imposed exile in the state of Pennsylvania since 1999, and his FETO terror group.
Gulen is also accused of leading a long-running campaign to overthrow the state through the infiltration of Turkish institutions, particularly the military, police, and judiciary, forming what is commonly known as the parallel state.
A group of servicemen made an attempt for a military coup in Turkey on July 15. However, the rebelling servicemen started to surrender July 16 and Turkish authorities stated on a failure of the attempt for the military coup.
Turkey's President Recep Tayyip Erdogan said that the death toll as a result of the military coup attempt stood at 246 people excluding the coup plotters and over 2,000 people were wounded.
Erdogan declared a three-month state of emergency in Turkey on July 20.