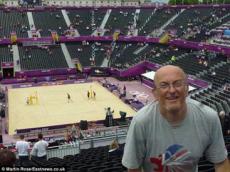 A 'superfan' who scoured the globe for tickets so he could see every day of the London Olympics died of a suspected heart attack after watching cycling at the velodrome.
Sports fanatic Conrad Readman, 49, from Colchester, had taken two weeks off to see as much of the Games as possible, including the Opening Ceremony and many of Team GB's gold medal moments.
But he was taken ill as he watched Victoria Pendleton and the men's team pursuit trio take gold on Friday night.
The chartered accountant, who lived with and cared for his mother Joan, was discovered in toilets at the venue and is believed to have died from a heart attack.
His mother Joan said: 'He had been looking forward to it ever since it was announced.
'There was never a day he was not excited about it and he got tickets for the whole fortnight.
'He was coming home every night so excited and telling me about everything he had done.
'He was as good as gold and never any trouble. He would help anybody. He loved watching a lot of sport and I am so very proud of him.'
Mr Readman, who had bought tickets from websites all around the world to build-up his Olympic diary, had seen 16 different sports as well as the Opening Ceremony.
/dailymail.co.uk/