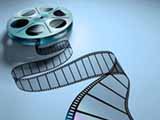 The members of the Azerbaijan delegation who are taking part in Week of the Azerbaijan cinema in Uzbekistan have visited National agency "Uzbekkino", also have met known actors and directors, and held press conference for journalists.
The vice-president of National agency "Uzbekkino", film director Dzahangir Gasimov, who carried out the Days of Azerbaijani Cinema in Uzbekistan, pointed out that Azerbaijani films will be shown at Tashkent and Samarkand cinemas till the end of April.
The head of the Azerbaijan delegation Almaz Sultanzade informed about the meetings with teachers and students of the Uzbek State Pedagogical University, and also about the trip to Samarkand.
Members of the Azerbaijan delegation spoke to journalists, and also gave interviews to TV Channels and newspapers.
/Baku-Art.Az/