Museum of Art in Baku presented Ziyadkhan Aliyev's book "Insane of Art", dedicated to the distinguished artist of Azerbaijan Sattar Bahlulzade was held.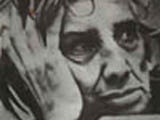 "This is a wonderful book that helps us better understand how brilliant Sattar was," - said the event chairman of the Union of Artists of Azerbaijan Farhad Khalilov. The book is released in a series of "unforgettable personalities" established by the Ministry of Culture and Tourism. Earlier in this series, a book about a remarkable writer Mir Jalal Pashayev, and journalist and teacher Nasir Imanguliyev came out.
During the presentation a small concert program with participation of Mugham musicians was also held.
Bahlulzade is one of the most well-known Azeri artists. His exhibitions were held in Algeria, Egypt, Lebanon, Syria, Tunisia, Norway, Czech Republic, Slovakia, Belgium, France, Japan and other countries. His works are found in many private collections abroad.
/Trend Life/