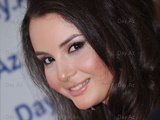 Azerbaijan's popular pop singer AySel, who won third place at "Eurovision-2009", has expanded the repertoire of new songs. This time she sang a rhythmic song "You".
The song is written in two versions. A video will be shot soon.
'We have not chosen director to shoot the video yet. We are thinking about it at the moment," Azerbaijan's honored artist, poet Baba Vaziroglu said.
The song "You" is innovation to AySel in terms of genre. The author of the text said that the small piece of music written on the basis of modern rhythms.
On her part, AySel noted that cooperation with such renowned authors gives her confidence.
"I am very glad that I work with such creative people like Kamal and Baba Vaziroglu, and I hope that this is not our last work together. This song is about love. Its rhythm is in a summer mood, and I am sure it will gain love of the audience. In the next few days the song will be aired on the airwaves," the singer said.
/Trend Life/