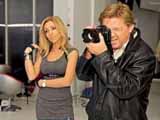 Music video for 'Drip Drop' is ready to be shoot! Star team gathered together and shootings will be held on 16-17 April in Kiev, Ukraine. The clip's celebrity production team includes Rupert Wainwright as a director, Beyoncé's choreographer JaQuel Knight and 'America's Next Top Model' stylist Tanya Gill. The star trio is eager to create "a world super clip for a Eurovision super hit."
The 'Drip Drop' video plot is long kept secret but its main goal to transmit the singer's emotion and encourage the viewer to liberate his or her own imagination. Only one detail was announced that in a few places in the video, Safura will be filmed swimming underwater. This is especially challenging for the Azerbaijani performer who can't swim very well and is generally afraid of water. By the way, this scene will be filmed in spa-center of five star's hotel in Kiev. But success in Eurovision has been Safura's primary motivation to do pretty much anything recently, as she mentions.
As we know, the international star trio did not end up on Safura's Eurovision team by chance. On behalf of the Azerbaijani broadcaster ITV, Euromedia and Luxen Group of Companies approached many international celebrity directors, choreographers and stylists probing their ideas and interest in working with Safura for Eurovision. After seeing Safura's pictures and listening to Drip Drop, Wainwright, Knight and Gill got really interested in the project and became the star trio for the music video production.
We can only imagine what lays in Safura's future after this music video will be out and about. Song 'Drip Drop' ruled lists of Eurovision 2010 favorites long before final version was launched. And now it's time for brand new music video from brand new team!
The 'Drip Drop' music video will premiere on April 28th!
/Eurovision Talents/

Click photos to enlarge: