Singer Aysel Teymurzadeh was the only Azerbaijani singer, speaking out in Moscow on April 9 ceremony International Award "Stars of the Commonwealth".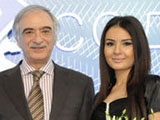 The prize is awarded by the Interstate Humanitarian Cooperation Fund of the Commonwealth of Independent States (MGFS) and the Council for Humanitarian Cooperation of CIS member states. It is awarded to the outstanding people of the CIS, who have made an international contribution to the development of the areas they represent in their countries.
Popular artist of USSR, Azerbaijan and Russia Tair Salakhov also received this "Stars of the Commonwealth" award.
At the event, AySel sang the song "Azerbaijan" by Husein Abdullayev.
"I was surrounded by stars such as Polad Bulbuloglu, Tair Salakhov, Larisa Dolina, Aleksandra Pakhmutova, Nikolai Dobronravov, Lev Leshchenko, and I did not want to part with them," – AySel told Trend Life.
"I was so pleased, and at the same time very suddenly heard kind words and praise from such respected celebrities" said Teymurzadeh.
"One thing is when you hear such from fans, and when its from people who have long had their "say" in the profession, is quite different. I am grateful to all of them" said Aysel.
/Trend Life/

Click to enlarge: