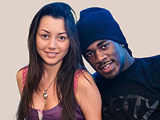 JaQuel Knight, one of world's hottest and most sought-after choreographers, will work with the Azerbaijani representative, Safura, on her Eurovision Song Contest performance and music video.
Knight is arguably the industry's most successful commercial choreographer, almost worshiped for his astonishing work with Beyoncé (Single Ladies, I Am tour), Britney Spears (Circus tour) and other celebrities. As one of his projects, he is currently choreographing this year's American Idol show.
JaQuel Knight will work on Safura's Drip Drop music video and then choreograph her Eurovision Song Contest stage performance. He is known for his cooperation with young, up-and-coming music artists in Los Angeles.
"I almost fell on the floor when I found out that JaQuel will be my choreographer. I mean, I know him as Beyoncé's choreographer, right? So you can imagine. I was very nervous when I first met him. But he's just such a cool guy. Really, I think I share a lot with him. We understand each other very well. I'm so happy to work with him," said Safura.
/Eurovision.tv/
Click pictures to enlarge:
Photos: Eurovision Talents