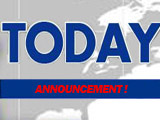 Dear Today.Az readers!
Okay, to make a long story short: We have some great news for our readers, especially for those, who like movies, and interviews with movie actors/actresses.
Never before published in English interviews with Hollywood (and beyond) actors will be posted on our website soon. They were not posted before due to some undisclosed reasons. All of them were taken in 2009-2010.
Exclusive? – Yes.
Interesting? – You bet.
Memorable? – That's for you to decide.
Prepare to read and learn about:
The worldwide known video game Tekken turning into a movie
Dangerous filming in Philippines
Jean Claude Van Damme movies that became cult classics
Why actors don't like working with Steven Seagal
Sylvester Stallone directing other action stars
What is Zen Filmmaking
The only man beating Chuck Norris in a karate tournament
How to make your own movie
And more!


/Today.Az/