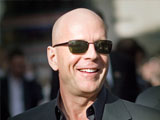 Bruce Willis has revealed that he is scared of modern forms of communication.
The Die Hard star, whose ex-wife Demi Moore regularly updates her Twitter page, said that people are too reliant on technology such as social networking websites.
Willis told TrailerSeite.de: "What really disturbs me is the danger that lies in the fact that people want to communicate information quicker and quicker. I am not a big fan of social networks in electronic form. If the electricity dies, we would have to go home right now."
Talking about the death of Michael Jackson last year, he said: "The whole world knew in four seconds or at least a short time. 10, 20 years ago that would have been utopic. Information gets more compact and quicker."
/Digital Spy/