David Hasselhoff has announced that he is to star in a new family-themed reality series.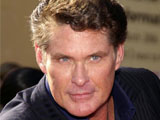 The former Baywatch actor is to appear in a ten-part A&E show which will follow him as he tries to help daughters Taylor Ann, 19, and Hayley, 17, launch singing careers.
Hasselhoff confirmed earlier this month that he had quit the America's Got Talent judging panel because he wanted to concentrate on his own TV show.
Revealing the full details of the project for the first time, Hasselhoff told Access Hollywood: "Our show is about me and my sister, our band and our career together and just our life. It's just to prove all the tabloids wrong basically."
Speaking of his daughters, he continued: "You know, they've always wanted to be singers and there comes a time in life when you become a parent and you say, 'Maybe I can help'."
Howie Mandel was recently announced as Hasselhoff's replacement on America's Got Talent.
/Digital Spy/