Cancer-suffering actor Dennis Hopper has turned to his children and "close friends" for support as he undergoes another round of chemotherapy - after filing for divorce from his wife of 13 years.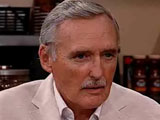 Court records recently revealed the Easy Rider star, who is battling prostate cancer, has begun proceedings to end the union, citing irreconcilable differences.
Hopper, 73, is preparing spousal support for Victoria, the mother of his six-year-old daughter Galen.
And in the midst of his battle with the disease, Hopper reveals he only "wants peace and quiet".
He tells BBC News, "I wish Victoria the best, but only want to spend these difficult days surrounded by my children and close friends."
Last year, the father of four revealed he had been quietly battling cancer since 2002. Recent tabloid reports suggest his condition has deteriorated and that he is "facing his final days". »
/IMDb/