George Clooney and Tina Fey were among the stars who reportedly joked about the rain at last night's Golden Globe awards.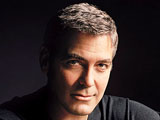 Many celebrities carried umbrellas as they walked the red carpet at the Beverly Hilton in Los Angeles ahead of the 67th annual ceremony.
Speaking to Entertainment Tonight, Clooney joked: "It's funny when it rains in LA, everybody falls apart!"
Taylor Lautner added: "This is my first Golden Globes, it's really exciting... I'm fine, I'm just excited to be here so I'm not complaining!"
Precious star Mo'Nique, who scooped the 'Best Supporting Actress - Drama' gong, said: "I have to give a lot of credit to my hairstylist because she came up with the perfect hairstyle, so any kind of weather baby, it will still be fabulous! It won't move. I could jump in a pool right now!"
Other stars to joke about the weather included Mariah Carey, who said her hairstyle was "supposed to be rain-proof", and Robert Downey Jr, who suggested that the rain was Arthur Conan Doyle "letting us know his presence here".
Tina Fey added to Billy Bush on NBC's pre-show: "It's not rain, it's just God crying for NBC!"
/Digital Spy/