Claudia Schiffer has confirmed that she is pregnant.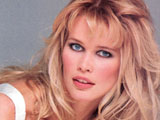 The 39-year old supermodel already has two children - 6-year-old Caspar and 5-year-old Clementine - with husband Matthew Vaughn.
Schiffer today told Grazia: "We are delighted with the news and can't wait to add to our family."
Vaughn and Schiffer wed in England in 2002 and now live in London.
/Digital Spy/