Alec Baldwin has laughed off suggestions that he is a sex symbol.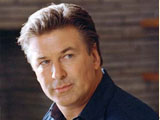 The It's Complicated star told Metro that the idea of him being such a figure at the age of 51 is silly.
Baldwin said: "I don't feel that way. That's ridiculous."
When asked if he worried about his overweight appearance in the movie, he added: "Well Jack Nicholson is a great inspiration. You learn that you just can't have that vanity."
Of the suggestion that he is the 'new Spencer Tracy', Baldwin said: "That's so funny to me. It doesn't get you anywhere. I try to avoid seeing any films I'm in.
"You wind up seeing them at 2am on cable a year or two later. Literally. How can you be entertained watching yourself?"
/Digital Spy/