Helen Mirren has dismissed rumours that she is preparing to publish a sex book.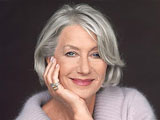 The actress insisted that the reports stemmed from an "offhand comment" that had been taken out of context.
She told the New York Post: "Please! No! Sometimes you make an offhand comment to someone somewhere and it gets handed down. But I would some day like to do a book. A whole different kind. A novel. I love the process."
"It came so easily to me when I sat down to write something, and took me by surprise because I didn't know I'd enjoy it so much. But writing about love and sex? Not until I'm dead."
/Digital Spy/