As the leaves start to turn vibrant shades, autumn arrives in Azerbaijan, beckoning nature enthusiasts with its enchanting beauty and a myriad of experiences.
From exploring natural wonders to enjoying delectable cuisine, the Land of Fire offers a wide range of activities that will delight everyone.
AZERNEWS invites its readers to take a look at some of the best food festivals to visit in Azerbaijan this season.
Pomegranate Festival
Held in Goychay since 2006, Pomegranate Festival is a must-visit event for foodies. Here, you can indulge in a variety of dishes featuring this vibrant fruit, from refreshing juices to flavorful sauces.
The Pomegranate Festival is held in Goychay between the end of October and the beginning of November.
With its good climate and fruitful soil, Goychay is renowned for its pomegranate growing industry. More than 67 types of pomegranates are grown here.
The most popular Azerbaijani sorts of pomegranates are Guloysha, Bala Mursal, Nazik gabig, Shah nar, Girmizi gabig, Shahnaz, Agshirin, etc.
Along with getting a taste of various dishes, there are many fun things to do at the Pomegranate Festival that will make you visit again.
In 2020, UNESCO included the Azerbaijan Pomegranate Festival in Goychay on its Representative List of the Intangible Cultural Heritage of Humanity.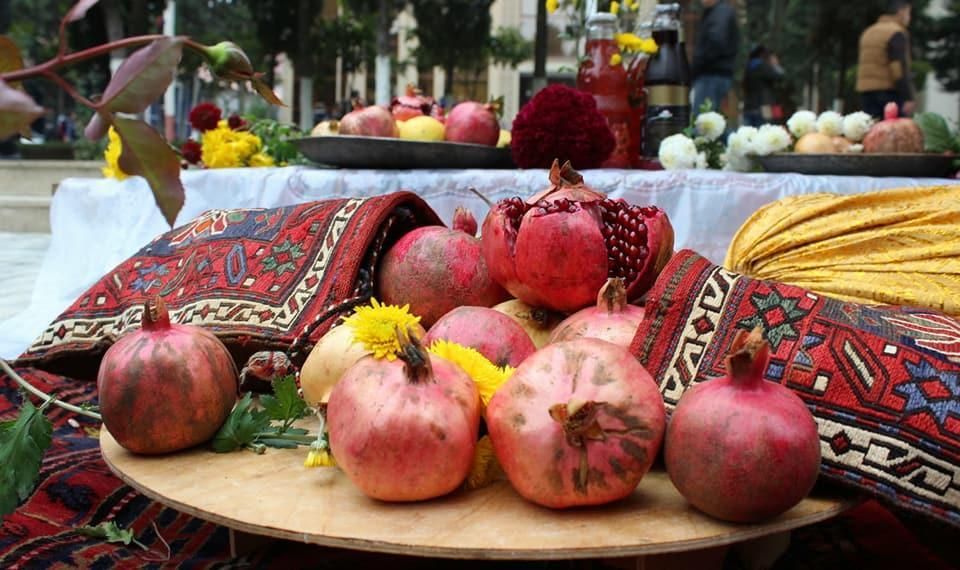 Apple Festival
Fall is the peak season for local apples and pears. Azerbaijan can safely be called an apple orchard with 300 varieties of apples grown all year round. The largest apple orchards are located in Guba and Khachmaz.
Apple is a symbol of Guba, where almost everything is devoted to this juicy fruit. Over 40 apple varieties can be found here, including "White Apple" (Ag alma).
With a bounty of sweet and savory recipes, Apple Festival leaves no one indifferent. Every year, dozens of farmers and gardeners bring here sweet, crisp, tart and juicy apples.
Farmers cooks demonstrate a wide range of dishes that can be prepared using apples. The feast of food also features colorful entertainment programs.
Honey Festival
The Honey Festival has many heavenly sweet treats to tempt sweet teeth. Here, you can indulge in a variety of dishes featuring this healthiest sweetener.
Famous for its beautiful nature, Gakh region opened its doors for all sweet lovers.
Beekeepers and farmers gather at the festival to demonstrate varieties of honey, including soft honeycombs, royal jelly, medicinal propolis, etc.
Beside culinary delights, the festival visitors can also purchase handmade crafts and souvenirs.
cuisine, such as dolma (stuffed grape leaves) and plov (a hearty rice dish), which are true culinary delights.
Get ready to satisfy your cravings, dance to live music at food festivals in Azerbaijan!