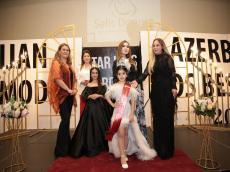 By Azernews
Laman Ismayilova
Star Kids Group has hosted Azerbaijan Kids Best Model 2023 at Badamdar Estates in Baku.
The children's competition and fashion show of young models took place at Badamdar Estates in Baku to mark International Children's Day, Azernews reports.
Speaking about the event, the project organizer, director of Star Kids Group Aygun Aliyeva said that its main goal is to reveal and develop the creative potential of the younger generation.
The project also focuses on their promotion in the country and then abroad.
The jury was headed by Academician of the International Academy of Sciences, Associate Professor of the Azerbaijan State University of Culture and Arts, Honored Art Worker, fashion designer Fakhriya Khalafova. Among the jury members were business ladies Afruz Amirova, Ilaha Aliyeva, popular singer Abdul Khalid, Turkish pop star Barysh Gomyurcuoglu and winner of Azerbaijan Kids Best Model 2021 Nilay Garayeva.
The competition was held among young models from 4 to 14 years old.
Around 100 children came out on the podium, 50 girls and boys each, who appeared in the costumes of young fashion designers.
The best were awarded in three prizes in the Azerbaijan Kids Best Model nominations, as well as in the nominations - Mister Pretty Boy, Miss Charm, Mister Charm, Miss Smile, Mister Smile, Miss Audience Sympathy, Mister Audience Sympathy, Princess, Prince, Miss Fashion, Mister Fashion, Miss Avangard, Mister Avangard, Miss Sport, Mister Sport, Miss Actress, Mister Actor, Miss Glamour, Mister Glamour, and Photo Model.
Photo Credits: Nariman Ismayilov
Media partners of the event Azernews.Az, Trend.Az, Day.Az and Milli.Az.