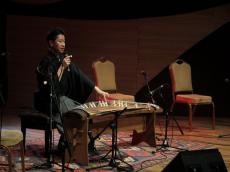 By Azernews
Laman Ismayilova
Japanese koto player Nobutaka Yoshizawa has captivated the audience at International Mugham Center.
Marvelous concert took place within the Japanese Embassy's series of events themed Japanese Wind, Azernews reports.
Japanese Ambassador to Azerbaijan Junichi Wada attended the event. In his speech, he hailed Azerbaijani-Japanese friendly ties.
"The foundation of friendly relations between two friendly countries was laid many years ago. Since then, cooperation relations have been established between our countries in various fields, and there are sufficient grounds for further strengthening this," he said.
The ambassador briefed the audience about koto, a traditional Japanese musical instrument and expressed his hope that such events would further increase interest in Japanese culture in Azerbaijan.
"Koto is a 13-stringed 2-meter-long Japanese ancient musical instrument. It was used only in Japanese court music. In modern Japan, it is played together with many musical instruments or solo, touching the heart with its delicate music tone," said the ambassador.
Next, he invited Nobutaka Yoshizawa to the stage of the Mugham Center. The koto player is a winner of the Kenjun Award.
Nobutaka Yoshizawa has given dozens of concerts in different countries to promote Japanese koto music.
Japanese musicians thrilled the Baku audience with unique koto performances. In addition to classic koto music, he mesmerized the guests with a synthesis of Azerbaijani mugham music. All performances were met with a storm of applause.
It is of note that the International Mugham Centre enjoys a long-standing partnership with the International Mugham Center.
In 2022, the sides signed a memorandum of cooperation to expand further cooperation. The sides exchanged views on the implementation of joint cultural projects.
Japanese musicians had repeatedly performed on the Mugham Centre's stage. The music band VA-LIGA shared the stage with mugham singers. Renowned Japanese shakuhachi player Yosuke Irie gave a concert at the Mugham Center.
In February, Japanese rock band KUNI-KEN presented a spectacular show at International Mugham Center. The concert was organized within the Japanese Embassy's series of events themed Japanese Wind.
The brothers Kuniaki and Kenji have successfully toured many countries. Since 2016, they have been acting as tourism ambassadors of the city of Yokkaichi.
Interestingly, the musicians played rock music on the shamisen, a traditional Japanese musical instrument. The rock band enchanted the Baku audience with its unique music style.