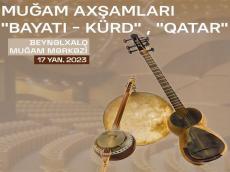 By Laman Ismayilova
Azerbaijani mugham singers will give a concert at International Mugham Center on January 17, Azernews reports.
The winners of the VIII Mugham Television Contest Fuad Azizzade, Ulker Abdullayeva, and Dashgin Kurchayli will perform compositions like "Bayati Kurd" and "Qatar" as part of the project "Evenings of Mugham music".
Mugham music concerts have been held since 2017. The main goal of the project is to promote Azerbaijani mugham music.
Over the past years, mughams like Rast, Shur, Zabul-Segah, Chakhargah, Bayaty-Shiraz, Humayun, Shushtar, Shahnaz, and Orta will be performed on the stage of the International Mugham Center.
Along with this project, the center holds a number of projects covering various genres of music like the Evenings of ashug music, Evenings of vocal music, and others.
International Mugham Center seeks to broaden international partnership relations.
The center takes important steps toward bolstering cultural cooperation with Hungary, Poland, Japan, Brazil and other countries.
Mugham Center plans to delight its visitors with even more interesting musical projects.