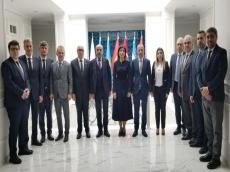 By Azernews
By Laman Ismayilova
President of the Turkic Culture and Heritage Foundation Gunay Afandiyeva has met with a delegation led by the chairman of the Union of Chambers of Turkish Engineers and Architects (TMMOB) Mujahit Demirtas.
Welcoming the guests, Gunay Afandiyeva stressed the importance of close ties with member states, including Turkey for the organization.
She stressed that the transfer of the chairmanship of the Organization of Turkic States to Turkey will greatly contribute to the development of mutual partnership between the Turkish states.
In her speech, Gunay Afandiyeva noted that the foundation has been cooperating with the Union of Chambers of Turkish Engineers and Architects since its foundation, recalling the international video conference "Karabakh's past, present and future" held last year.
Gunay Afandiyeva also spoke about the foundation's multifaceted activities to restore, preserve and promote the culture of the Turkic world and stressed the importance of implementing new projects with the Union of Chambers of Turkish Engineers and Architects
TMMOB chairman Mujahit Demirtas spoke about the restoration of the monuments destroyed as a result of the Armenian vandalism in the Turkic world, including  Karabakh, an integral part of Azerbaijan.
Afterwards, the chairman of the association Mujahit Demirtas praised the role of Gunay Afandiyeva in preserving the cultural heritage of the Turkic world and presented a diploma to the President of the Foundation stating that she was elected an honorary member of the Union of Chambers of Turkish Engineers and Architects.
Initiated in 2012, Turkic Culture and Heritage Foundation focuses on preservation of Turkic heritage in member countries as well as conducting projects in collaboration with partners in third countries.
The Foundation provides assistance in the protection, study and promotion of Turkic culture and heritage through supporting and funding various activities, projects and programs. It carries out its activities in cooperation with TURKSOY and the Turkic Academy.
Cooperation Council of the Turkic Speaking States (CCTSS) is an intergovernmental organization, which aims at promoting comprehensive cooperation among Turkic Speaking States.
The organization was established by the Nakhchivan Agreement, which was signed at the Turkic Summit in 2009.
In order to fulfill the objectives and tasks of the CCTSS, the organization has been divided into the following structures: Council of Heads of States; Council of Foreign Ministers, Senior Officials Committee, Council of Elders, Secretariat, Coordination Committee, Representation Office of the Turkic Council in Budapest.