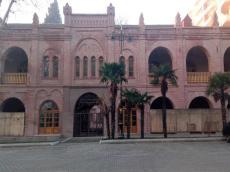 By Azernews
By Laman Ismayilova
Work is underway to restore the caravanserais of Shah Abbas and Ugurlu Khan in Ganja.
Culture Minister Abulfaz Garayev and head of Ganja City Executive Authority Niyazi Bayramov got acquainted with the final work on the restoration and reconstruction of these ancient historical and architectural monuments.
Then the minister and the head of Ganja City Executive Authority arrived at the Ganja State Philharmonic Society, Trend reported.
Abulfaz Garayev inquired about the activity of the music center operating in the Ganja State Philharmonic Society.
Information was provided on the activities of the Goygol State Song and Dance Ensemble, chamber orchestra, choir, Orchestra of Folk Instruments,  as well as Khamsa Children's Dance Ensemble.
The Minister of Culture and the head of the city executive power were then familiarized with the work on the construction of a new Ganja State Drama Theater on the right bank of the Ganja River.
Shah Abbas was built in the 12th century by order of Shah Abbas and bears his name.
This caravanserai is a part of the historical architectural ensemble created by the architect Sheikh Bahauddin, which also includes the Juma mosque (Shah Abbas mosque) and Chekyak-Hamam (medieval bath).
A burnt brick and a mixture of egg white, lime and clay were used in the construction of the building. The two-story caravanserai, built in oriental style, includes 15 halls and 54 rooms.
Ugurlu Khan caravanserai is made in the typical feudal style and contains two large courtyards in the complex.
It is likely that the caravanserai was built at the expense of Ugurlu Khan I, the nephew of the Ganja beylarbek Murtuzagulukhan Ziyadoglu and bears his name. The title of Khan Ugurlu bey received after he became the next beylarbek (governor).
After the capture of Ganja by Russian troops in 1804, the caravanserai, like all Khan's property, was confiscated and transferred to a treasury account. Later on, one of the buildings of the caravanserai was rented by "sherbatlars", kelagai headscarf  manufacturers.
Both caravanserais are interconnected by four internal passages.