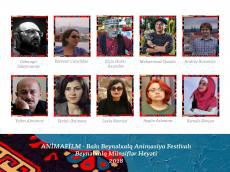 By Azernews
By Laman Ismayilova
The first Baku International Festival of Animated Films (AN?MAF?LM) has unveiled the films and scenarios  selected for its 2018 competition. 
"According to the decision of the organizing committee, it was decided to exclude from the competition program the categories "Best Animated Social Video" and "Best Animated Advertising". The decision was made due to the fact that an insufficient number of films were sent in these categories. The winner in the category "Best Original? Scenario for a Short Animated Film" will be determined by  the international jury on scenarios and will be announced at the opening of the festival. The winner's script will be printed in the festival catalog and the author will be given the opportunity to read it in public," the festival's director Rashid Agamaliyev told Trend Life.
The winner in the categories "Best short animated film" and "Best Azerbaijani short animated film" will be determined by the international jury. Their names will be announced at the closing of the festival, after which their films will be screened.
The jury will evaluate the works in two parts: animated films - Elchin Hami Akhundov (Azerbaijan), Jahangir Suleymanov (Russia), Ketevan Janelidze (Georgia), Mohammed Gazala (Egypt), Andrei Khovanets (Slovakia), scenarios - Yefim Abramov (Israel), Leyla Novruzi (Iran), Sevinj Azimova, Aygun Aslanova, Kamalya Rovshan.
Notably, ANIMAFILM, the first international festival of animation art, will be held in Baku on October 19-21.
The project aims to develop creative and production activities of filmmakers, film and animation studios of the country, review various genres of professional animation by foreign directors and exchange experience.
The festival will bring together films from Azerbaijan, Turkey, Iran, Russia, UK, Ireland, USA, Germany, Sweden, Belgium and other countries.
The short films "SEA" by Marharita Tsikhanovich; "Overrun" by Pierre Ropars  Antonin Derory, Diane Thirault, Jérémie Cottard, Matthieu Druaud and Adrien Zumbihl; "Empty View" by Ali Zare Ghanat Nowi; "Carlotta's Face" by Valentin Riedl, Frédéric Schuld; "Catherine" by Britt Raes; "Into the Spotlight" by Farida Ismayilova, Aida Ismayilova; "MERCURIO" by Michele Bernardi; "Conversation Star" by Bazancir, Carl Hedsved; "Peace carpet" by Ziba Arzhang; "Nevermind" by Burak Kum; "Fruits of Clouds" by Kate?ina Karch?áková; "A kak je kosmonavti" by  Galina Golubeva; "Krasnoludki" by Roman; "Billie" by Maki Yoshikura; "Son of the Sea" by Abbas Jalali Yekta; "Cabin Pressure" by Matthew Lee; "Late Afternoon" by Louise Bagnall; "A priori" by Maïté Schmitt; "Tesura" by Jagriti Khirwar; "Fopspeen Moving Pictures" by Diek Grobler will compete in Best Short Animation Film nomination
Five films, including "Öz ?lind?dir" and "Milli cizgi filml?rimiz" by Sultan Abbasbeyli; "Yuxu" by Tural M Mammadzadeh; "Nocturne" by Frangiz Kurbanova; "Continuity" by Samir Salakhov will be presented in Best Azerbaijani short animated film nomination.
Seven scenarios "The Nakhkesh" by Zeynab Ghorbani Faryad; "Snowman" by Ali Bagheri Behboud and Mohammad Esmaeilpour; "Black and White" by Haide Moradi, "Toxumun qay?d???" by Mirvari Aghakishiyeva; "Ov" by Adil Nasibov; "Balaca ke?ikçi" by Parviz Mammadov; "P?l?hli ?t?yind?" by Mir Qadir Hashimi will compete for the victory in Best Original Script for Short Animation nomination.