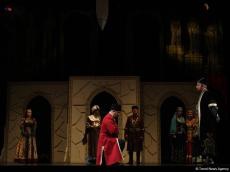 By Azernews
By Laman Ismayilova
The Azerbaijan State Academic Drama Theater has opened its 146th theatrical season with "Karabakhname" staging.
Before the show, the People's Artists of Azerbaijan, Haji Ismayilov, Saida Guliyeva and Ramiz Novruz told the audience about the premiere performances that will be shown in the new theatrical season, Trend Life reported.
The actors stressed the role of theatrical art in people's lives.
Next, the audience was presented with a performance based on the work of a prominent playwright, People's Writer Ilyas Efendiyev "The Ruler and His Daughter".
The production tells about the events that take place in the 18th century in Shusha, the center of the Karabakh Khanate. During the rule of Ibrahim Khan, the Karabakh Khanate became one of the most powerful Azerbaijani khanates.
The ruler of Karabakh Khanate Ibrahim Khan tries to establish political and friendly relations with Russia and Iran, but becomes a victim of treachery and betrayal of Armenians.
The director of the production is People's Artist Marakhim Farzalibekov, animation director Ismayil Mammadov, musical - Hamid Kazimzade, costume designer - Aygun Makhmudova, lighting artist - Rafael Hasanov.
The cast includes folk artists Firangiz Mutallimova, Rafig Azimov, Sayida Guliyeva, Azhdar Hamidov, Haji Ismayilov, Sabir Mammadov, honored artists Kazim Abdullayev, Rovshan Kerimduht, Elkhan Guliyev, Ali Nurzade, Myasma Aslangizy, Kazim Gasanguliyev, Aslan Shirin, Mirza Agabeyli, Parviz Bagirov, Elshan Jabrayilov, Anar Heybatov and others.
Azerbaijan Drama Theater was first established on December 20, 1920, as the "State Free Satirical Agitational Theater", however on April 29, 1921, it was renamed as the "Baku Workers' Theatre".
In 1937 the name was changed to "Azerbaijan State Red Banner Theater of Russian Drama". Since 1938, it is named as the "Azerbaijan State Russian Drama Theater". In 1956, the theater was additionally named after the Azerbaijani poet Samad Vurgun.
Many works of Russian literary figures such as Tolstoy, Pushkin, Chekov, Gogol, Lermontov, Mayakovsky, Lavrenyov, as well as Azerbaijani literary figures such as Jafar Jabbarli, Mirza Fatali Akhundov, Ali bey Huseynzade, Najaf bey Vazirov, Huseyn Javid, works of world classics such as Shakespeare, Schiller, Molière, Dumas, Hugo, Balzac, are staged in the theater in Russian.
The theater makes performances not just for adults, but for children too.