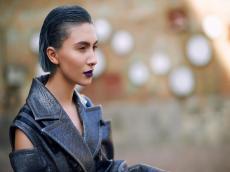 By Azernews
By Laman Ismayilova
Famous singer Diana Hajiyeva will represented Azerbaijan at One Caucasian-2018 International Music Festival.
The music festival will be held in Georgia on September 1-2, bringing together talented musicians from the South Caucasus countries, as well as Iran, the U.S., Poland and Senegal. 
The main purpose of the festival is to inspire young people living in the South Caucasus to create a peaceful, stable and secure region.
The festival will be held in Poladauri village of Bolnisi region. Last year it was organized in the village of Tserakvi in the Marneuli region.
Various art fairs, film screenings and seminars will be held as part of the festival.
Diana Hajiyeva is an Azerbaijani singer and songwriter.
She is a member and the lead vocalist of the group Dihaj. A live trio, comprised of two other musicians: Ali (drums) and Anar  (electric guitar), with Diana herself producing and providing lead vocal.
Dihaj broke through with their 2014 single "I Break Again" co-written by Diana and world famous jazz pianist Isfar Sarabski.
Their single "Complain" is the first track from their debut album "T.E.O.S" released in July 2017.
The band participated at the international festivals in the Netherlands, Lithuania and Georgia. The team awarded the "Phoenix" in the nomination "Debut of the year" with the song "Gec?l?r keçir" at Caucausian Music Awards held in Georgia.
Ethereal guitar sequences, melancholic breathy vocals punctuated by progressive drum patterns create a peculiar sonic texture, which DIHAJ describes as "immersive doom pop".
Diana represented Azerbaijan in the Eurovision Song Contest 2017 with the song "Skeletons" finishing in 14th place.
The song, Skeletons, performed by Dihaj, told the story of a strong woman who is passionate about a bad guy. The performance featured a chalk board behind singer DiHaj. She wrote a text on this board during her act. At the end of the song, the walls came down.