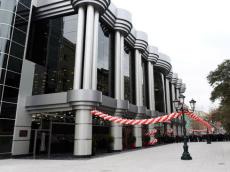 By Azernews
By Laman Ismayilova
Naida Ismayilzade appointed as a new director of the Azerbaijan State Theatre of Young Spectators.
Naida Ismayilzade previously headed the theater sector of the Ministry of Culture of Azerbaijan, Trend Life reported.
She is a graduate of the faculty of theatrical studies of the Azerbaijan State Institute of Arts. In 1981- 1984 she worked at the film studio Azerbaijanfilm. In 1984-1989 she was a  chief editor of the Azerbaijan State Philharmonic. From 1989 to 2018 Ismayilzade worked in various positions of the Ministry of Culture and Tourism.
Naida Ismayilzade took an active part in organizing and holding events, including the Baku International Theater Conference, the International Puppet Theater Festival, the Sheki International Theater Festival, etc. She is one of the authors of the law "On Theater and Theater Activity", the State Program "Azerbaijan Theater in 2009-2019".
Ismayilzade is also a literary translator. She is a Member of the Azerbaijan Union of Theater Workers.
Naida Ismayilzade was awarded the State Medal "For Difference in the Public Service".
Mubariz Hamidov, the former director of the Theater of Young Spectators, will receive a new post.
Azerbaijan State Theatre of Young Spectators was established on March 15, 1927, in Baku, on the basis of Children's Theatre and artistic amateur drama circles of students. The "Storm" play written on initiative of 14-year-old Aghadadash Gurbanov laid the foundation of the Children Theater.