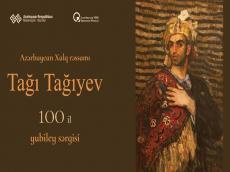 By Azernews
By Laman Ismayilova
Azerbaijan National Art Museum will host the anniversary exhibition of People's Artist Tagi Tagiyev, who played a huge role in enriching and promotion of national art.
Some 60 paintings and graphic works from museum's collection will be showcased on June 8.
The exposition will feature such works as "Before the exam", "Before the performance", "Window", "Snowy roads", etc.
Representative of the classical Azerbaijani school of painting Tagi Tagiyev masterly created portraits, still life and landscape genres. In his work, the artist united the national art and the traditions of the European and Russian schools.
In 1935, Tagiyev graduated from the Art College . After graduating from the technical school, the young artist worked on portraits and thematic works.
Tagiyev created portraits of such personalities as Gara Garayev, Sattar Bahlulzade, Kamil Khanlarov and Sultan Muhammad.
Still life takes a special place in the artist's creativity. In such works, he skillfully conveys a gentle color. Tagiyev brought to the canvas the hot summer days at Absheron beaches, narrow streets in Baku, Boulevard Bay at night time in poetic form.
In the works "Window of My Workshop in Baku" (1958), "Cloudy Day in Baku" (1959), the artist shows himself not only as a brush master, but also as a lyric poet  who evokes sympathy.
The still life was one of those genres in which Tagiyev worked with special zeal. His still lifes were distinguished by rich color and elegant composition structure. The artist skillfully conveyed the elegant texture of the material, the structure of the fabric, the transparency of the glass. Looking at the landscapes, one can enjoy the captivating beauty of country's nature.
He made a creative journey to the countries of West Africa, the artist depicted the cares, desires of people living there. In his work, a special place is occupied by images of strong physically and mentally, purposeful workers and oil workers.
Living a fruitful life, the artist left behind a rich artistic heritage. His works are kept in the State Museum of Oriental Art in Moscow, the Azerbaijan National Museum of Art, the Azerbaijan State Art Gallery, museums and galleries of Georgia and many other countries, including private collections.
Unfortunately, the artist died in 1993.